Bring Your Business Peace Of Mind
User Activity Monitoring + Data Loss Prevention + User Behavior Analytics
4,000+ Active Customers, Hundreds Of 5 Star Reviews

User Activity Monitoring
Monitor and control user activity to ensure compliance with internal security policies and regulatory requirements.

Employee Monitoring
Monitor employee activity with customizable reports to identify team, department, individual level productivity, social media use, time spent on projects, apps, and more.

Data Loss Prevention
Leverage Teramind's industry-defining DLP features such as OCR, fingerprinting, and content discovery to prevent malicious or negligent data exfiltration.

User Behavior Analytics
Identify behavior anomalies and uncover potential threats in real time. Get fully customizable alerts with full audit trail and video recording of all user actions.

Compliance & Audit
Ensure ongoing compliance for GDPR, HIPAA, PCI and much more by identifying and alerting user to non-compliant actions with real time alerts.

Insider Threat Prevention
Automate risk detection and block unwanted employee behavior. Teramind uses smart rules & alerts to always keep your organization safe.
Your Business Deserves Peace Of Mind
Step 1
Contact Us
Contact us now to get started

Step 2
Setup Server
Setup servers according to our technical requirements.

Step 3
Install Agents
Install the agents on the machines you wish to monitor.

Step 4
Customize Settings
Customize our pre-defined rules for your use-case.

Step 4
Take Control!
Start using the dashboard to secure your domain and gain insight into users' activities.
Sit back and let our software monitor employee. Get notified if any predefined rule is broken.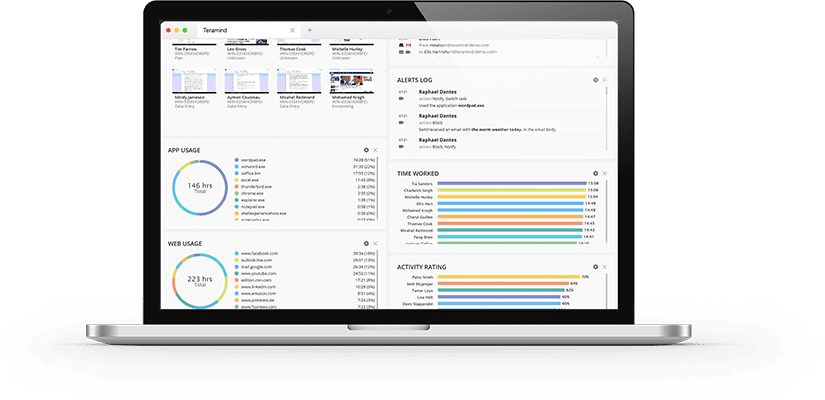 We Let Our Software Speak for Itself
Contact us for a demo of our software